Maidstone's most experienced hog roast caterers
Welcome to Spitting Pig Maidstone, where succulent hog roast catering and dedicated customer service combine to deliver an unbeatable party catering service. Our famous event-and-celebration mealtime menus provide outstanding levels of choice and satisfaction in Maidstone and throughout the county of Kent – our experienced hog roast catering team knows how to wow your guests with a delicious and aromatic feast that excites the senses.
Spitting Pig Maidstone has more than 10 years of valuable in-field hog roast catering experience. Whether you are planning an intimate or low-key back-garden gathering with a few well-chosen guests, or whether you're thinking of something more extravagant, such as a birthday, retirement bash, wedding, or graduation, our catering options have everything you need to bring everybody together to share in a truly memorable hog roast dining experience.
Spitting Pig Maidstone – Our Services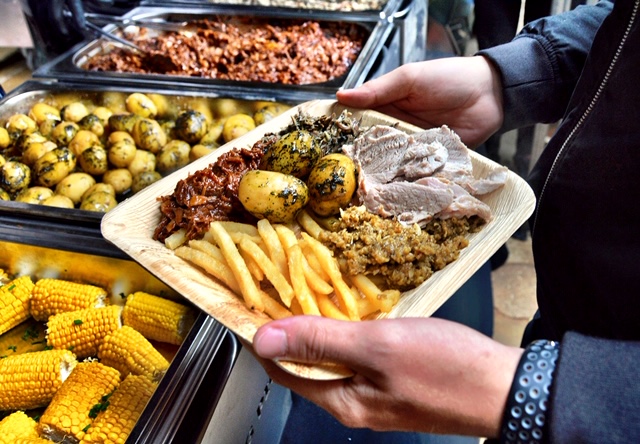 Our Spitting Pig Maidstone staff love to hear your plans – we want to know all about the look and feel you want to achieve on your special day. We take great pride in delivering the kind of hog roast catering service that leaves first timers wondering why they've never looked into our professional indoor or outdoor group dining options before. Don't worry if you haven't started planning, we're here to help you to make all of the right decisions to delight your guests.
Spitting Pig Maidstone services include:
Staffed events and celebrations – Our waiting staff provide your guests with the option to remain relaxed and seated during serving times – the perfect way to avoid those lengthy queues at larger gatherings.
Arrive in style with a drinks reception – Speak to us about our drinks reception options for the standout way to welcome your guests with a glass or two of something bubbly and perhaps an appetiser of your choice.
Design your own menu with our mix and match options – Our set menus are a great place to start planning your menu. Speak to us about mixing and matching ingredients (or about adding any special menu items of your choice).
Local & Fresh Ingredients Guaranteed
Spitting Pig Maidstone is proud to have established a working relationship with some of the county's most outstanding local suppliers of high-quality fresh produce. Our extensive network of approved vendors provides you with access to the tastiest seasonal meat and vegetables, meaning that your guests are guaranteed to experience hog roast catering at its finest.
Hog Roast Machines Accessories – Expand Your Menu
Hog roast machine accessories:
If you are considering Spitting Pig Maidstone for your next event or celebration, but you are unsure as to whether a hog roast will cater to the tastes of all of your guests, we can help. Our hog roast machine accessories are designed to expand your menu with ease, meaning your guests can choose from a wide range of menu highlights throughout the day.
BBQ Grill – Top up your menu with our BBQ Grill accessory – treat your guests to burgers, hotdogs, toasted buns, caramelised onions, sausages, corn on the cob, and much more.
Spit Roast – Our purpose designed Spit Roast accessory is capable of handling up to 36 large chickens – or perhaps get creative with large pieces of lamb, beef, and even fish.