Burger vans and hot dog stalls are a familiar feature of match days whatever the sporting occasion. But if you are organising the catering for a local sports match and you want to offer the loyal fans something that is a cut above the usual fare, how about hog roast sandwiches prepared by the area's leading hog roast caterers?
It isn't just the players who need fuel to keep their energy levels up- their supporters also deserve to be well fed as they are cheering their team on! If Hog Roast Allington are doing the catering, they can be tucking into a gourmet hog roast sandwich that is perfectly complemented by a layer of crunchy cracking and a dollop of smooth homemade apple sauce.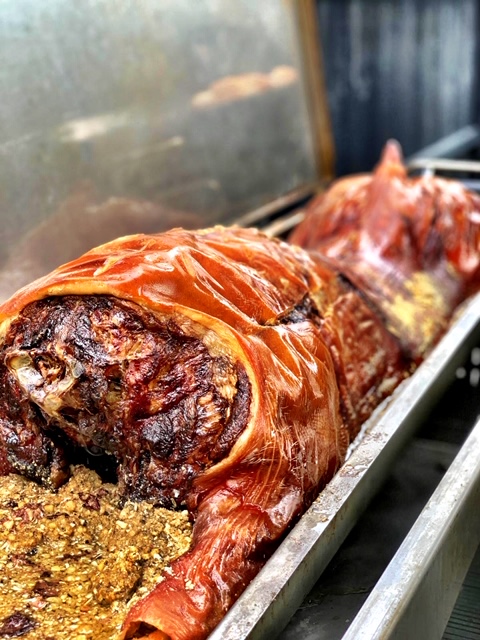 Our hogs are slow cooked delicately for the required number of hours (depending on their weight) until the pork is falling off the bone. The traditional spit roasting method brings out the meat's depth of flavour and maximises its succulence – making it a moreish and filling match day dining option that everyone will love. If you are interested to learn more about how our hogs are cooked, you will get the opportunity to see the process for yourself because we always prepare our signature dish onsite in full of view of our diners. We will arrive well in advance of kick off so that our free range hog will be perfectly cooked and ready to be carved and served as the main ingredient in our unbeatable hog roast sandwiches, at the exact time you would like the food to be available. Whether you want to treat the spectators to a pre-match bite or a half time pick me up, we will ensure our food is all expertly prepared and ready to go.
Unlike the slow process we use for preparing our hogs, our food service can be as swift as you like. No one will miss a single second of the game thanks to our efficient catering team, who will serve each person with a smile and a great plate of food in record breaking time!
Hog Roast Allington are here to offer you the perfect match-day catering option so please get in touch if you would like to find out more about our large-scale catering packages.